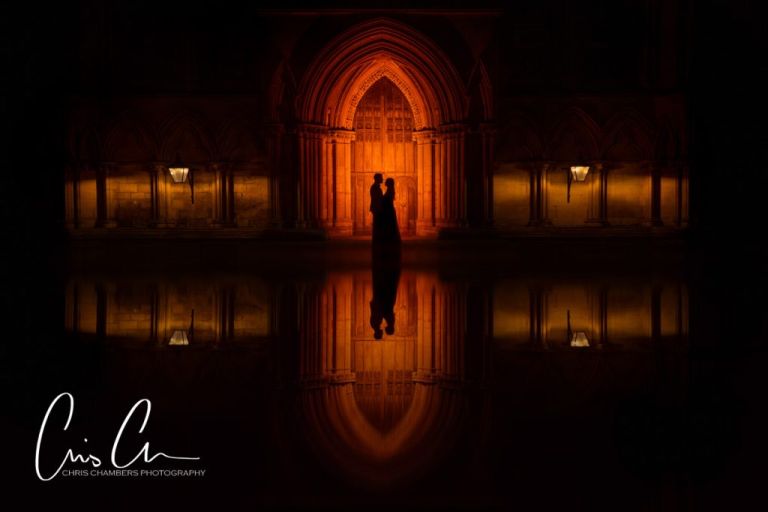 Tuesday September 12th 2023.  1830 until Midnight
£175 per delegate – Limited to 8 photographers –  Click here to book with a £75 deposit
The historic city of York in North Yorkshire is the venue for our night time and twilight wedding photography training course.   During the evening of wedding photography training, I'll be demonstrating and teaching how we create the stunning after dark evening photographs with just speedlights, regardless of the weather with fast and simple techniques that can be applied at any wedding venue.
Topics and subjects we'll aim to cover during the evening.
Method of working for creating night time images. – A fast and simple method of work to follow to enable quick set up and completion of the night time wedding photographs
Balancing ambient and flash exposure – a no-nonsense method of work for fast results
Use of single and multiple off camera speedlights including use of gels and backlighting
Champagne spray images – A bottle included for all participants to create this sought after wedding photograph.
Umbrella photographs
Achieving focus and composition in little or no light
Equipment required for achieving great results.
We'll meet at a central York location for 1830 to begin our night shoot taking in a number of key locations including the Historic Shambles, areas around York Minster, Clifford's Tower and along the River Ouse.
Equipment required for the night shoot
Camera – full or crop frame. Lenses from around 24mm to 100mm, a 70-200 would also be a useful lens for this workshop but not essential. A sturdy tripod and cable release.
We have triggers for all makes of cameras and will be using our  speedlights  off camera.
Booking procedure:
A £75 non-refundable deposit is required to book your place on the workshop. The remaining balance will be due two weeks before the workshop date.
To book your place on this workshop please click here
Some images from recent York wedding photography workshops