February 26th -29th 2024
Landscape photography workshop in Venice Italy. 
£750 Book now with a £150 deposit. Fully Booked
Includes a location planning zoom and private Facebook group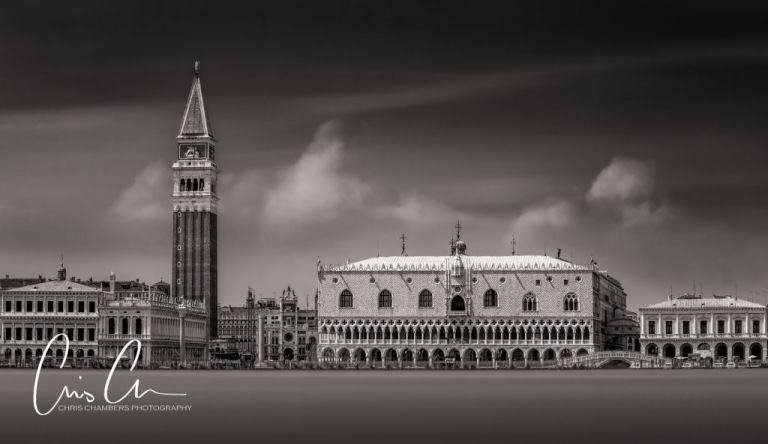 0800 February 26th – 1400 February 29th 
Our workshop begins on the morning of 26th February. Meeting at our hotel close to St Marks square we'll discuss the plan for the week and locations before we head out for our first morning shoot. We'll continue until after dark creating timeless images in this photography mecca. During our four days we'll visit lots of locations to create amazing images including several nearby islands. There'll be several sunrise and sunset shoots as well as day time and after-dark. all interspersed with amazing Italian food.
During the four days and a planning zoom before our workshop I'll be teaching various techniques and methods of work including. 
Location planning – working with with both sun and moon rise / sets as well as day time lighting we'll use Googlemaps, Photopills and other apps to put us in the best place at the best time. 
Landscape composition – using lead in lines, rule of thirds, separation and image structure.
Focusing, hyperlocal distance and maximising depth of field.
Long exposures with the use of filters.
High Dynamic Range (HDR) images with exposure bracketing,
Focus stacking and editing
Creating panoramic images.
During one of the evenings I'll demonstrate my editing techniques using Lightroom and Photoshop to edit some of the images from that day.
We'll also have daily fun photographic challenges to complete to help test your creativity and explore locations and ideas. All tuition is included along with the use of filters for creating the images – Neutral density and graduated neutral density.
Accommodation
Normally an expensive place to stay, during the quieter season, hotel prices are much more reasonable. I will be based near St Marcs Square and will be advising of hotels around April when they become available to book.  You are welcome to Choose any hotel or location but the inexpensive 4 star hotel I use near St Marks is centrally located and ideal place to stay (accommodation for 2022 was £60 per night). I would recommend arriving the day before. We'll finish at Lunchtime on Thursday for everyone to make their way back to the airports for afternoon flights
Fully Booked
Fitness Level Required: 2/5
We'll be working on flat terrain, apart from bridges, Venice has no inclines. We'll be walking a lot between locations. we will take water buses as required but be prepared for walking between 15000 and 25000 steps per day
Photographic equipment required:
A sturdy tripod is essential for landscape photography
Lenses from wide angle to around 70mm.  Lenses with a filter thread are ideal as these allow the use of filters, some extreme wide angel lenses such as 12-24mm don't allow the use of conventional filters.
A cable release for long exposures is an ideal and inexpensive way of activating your camera shutter
Camera rain cover – either a bespoke cover or a simple plastic bag to protect your camera from the element
Other recommenced equipment. 
Warm and waterproof clothing including hat and gloves
Sturdy comfortable footwear
Umbrella, rain equals atmosphere, lack of crowds and reflections. 
Experience Level:
You don't need previous landscape photography experience. The workshop is best suited to those with an understanding of camera controls and use of settings in manual. During the workshop I'll be teaching and demonstrating techniques and use of filters. 
Whats included / whats not
I have chosen not to include accommodation with the workshop as people may prefer to book their own, have rewards points or even cash-back with bookings. I have recommended the Royal San Marco as a base to stay.  
All tuition is included along with the use of loan filters if required. Additional to accommodation and food costs you'll need to factor in any transport costs, water buses are inexpensive and a must for avoiding extra miles of walking (and swimming for some locations!). Some locations require a small access fee payable in cash.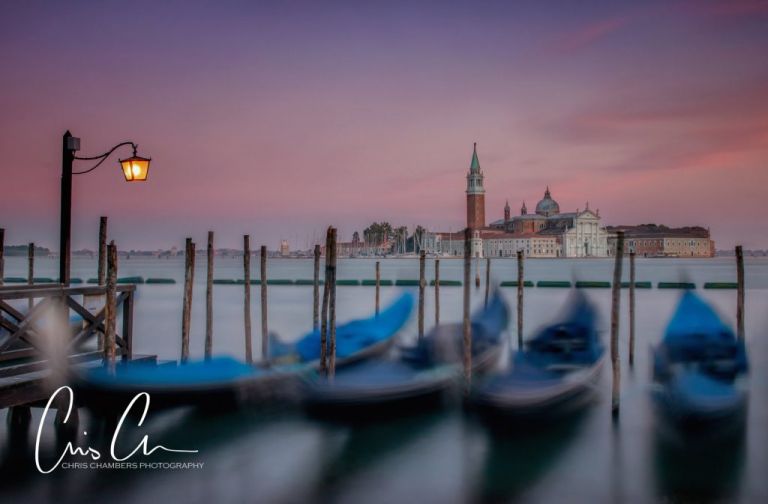 Above: Sunset approaching blue hour, we'll time our locations with the best light and where possible to avoid the crowds.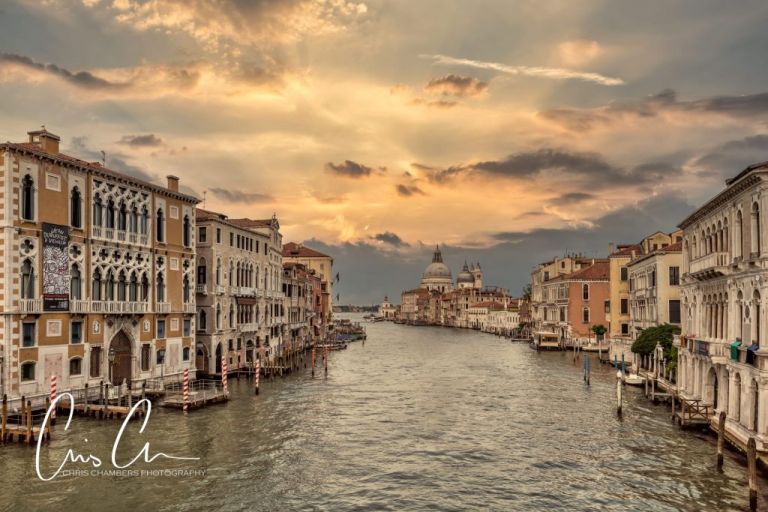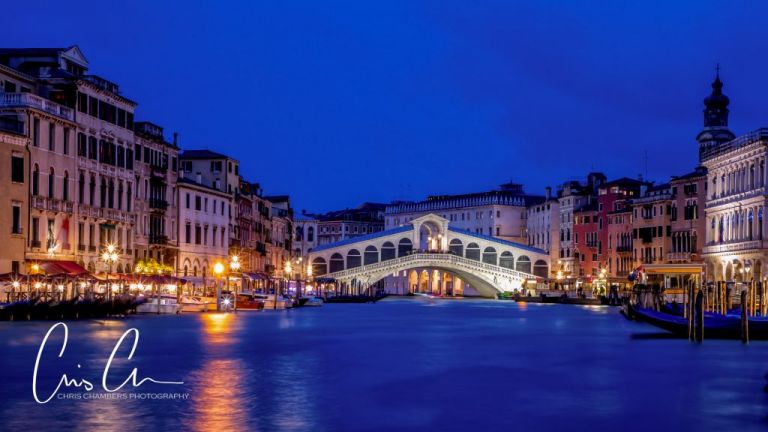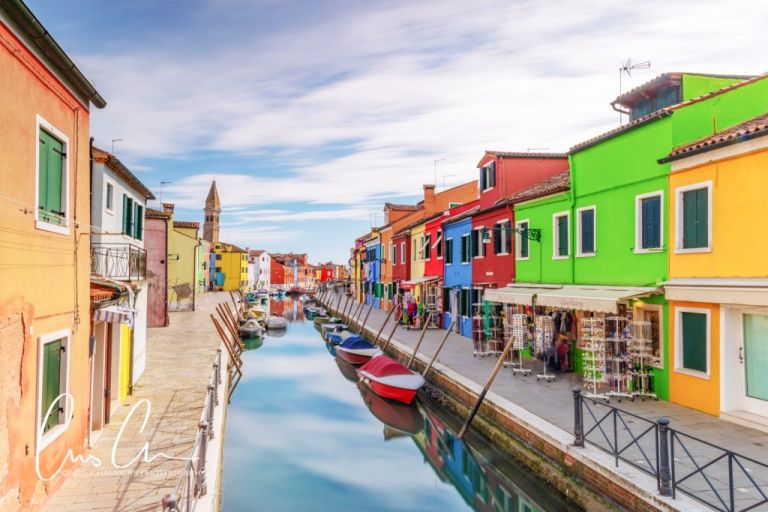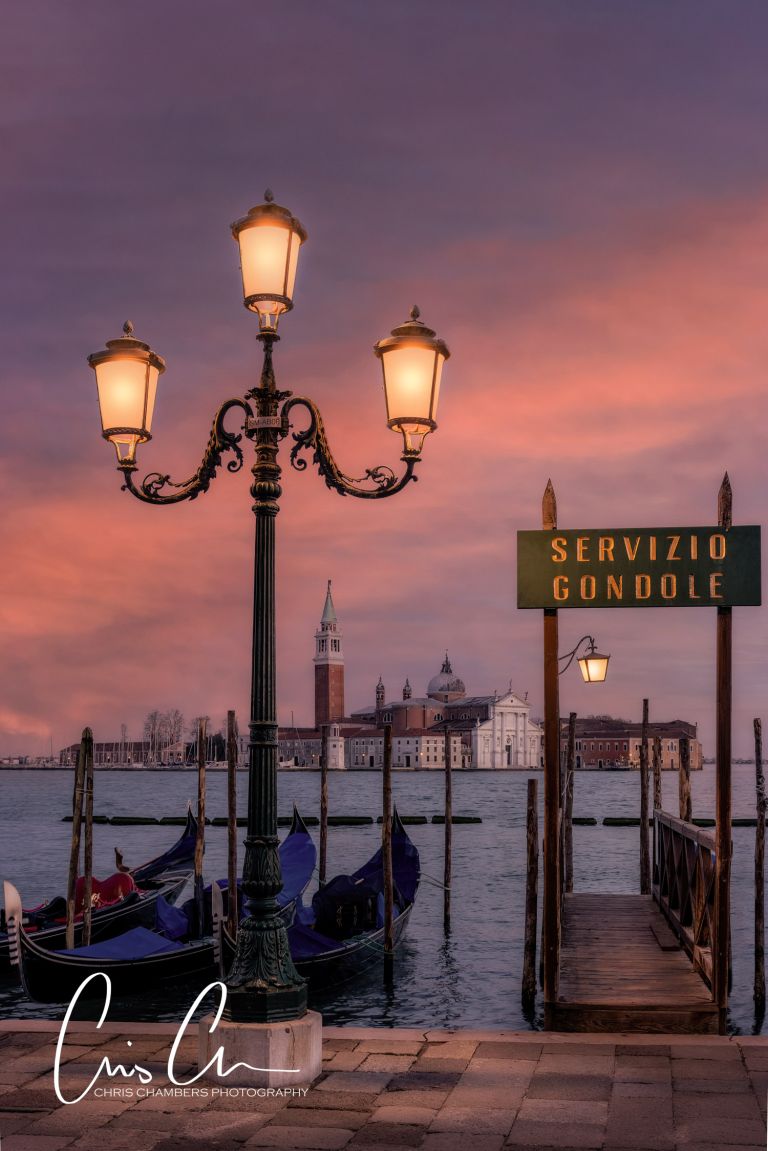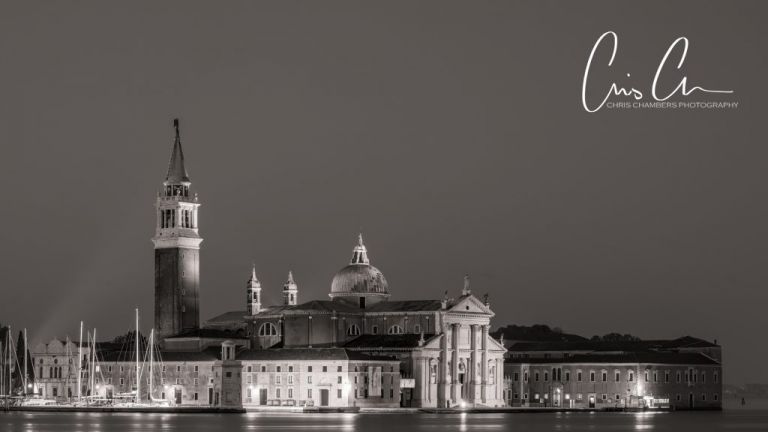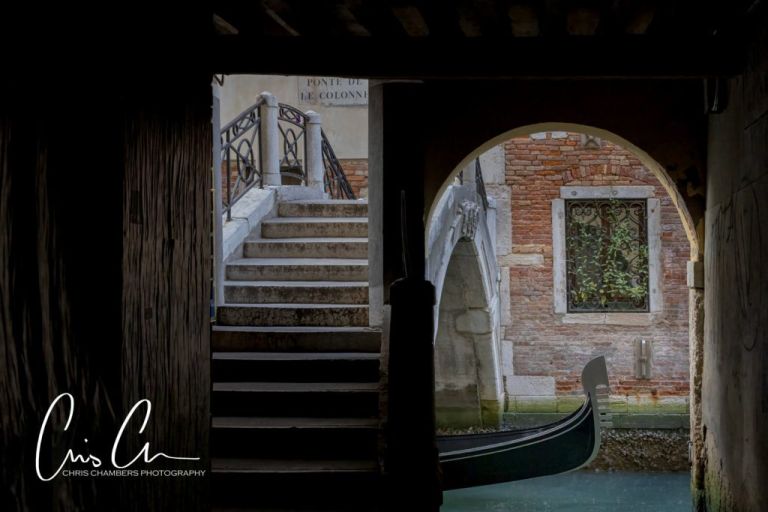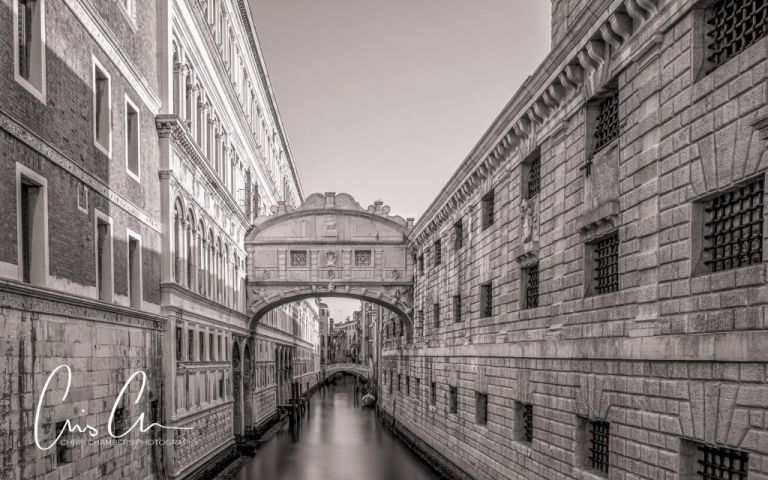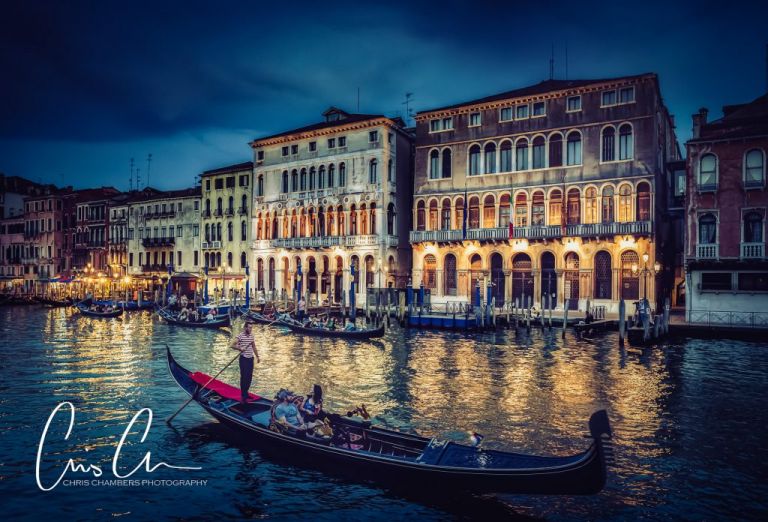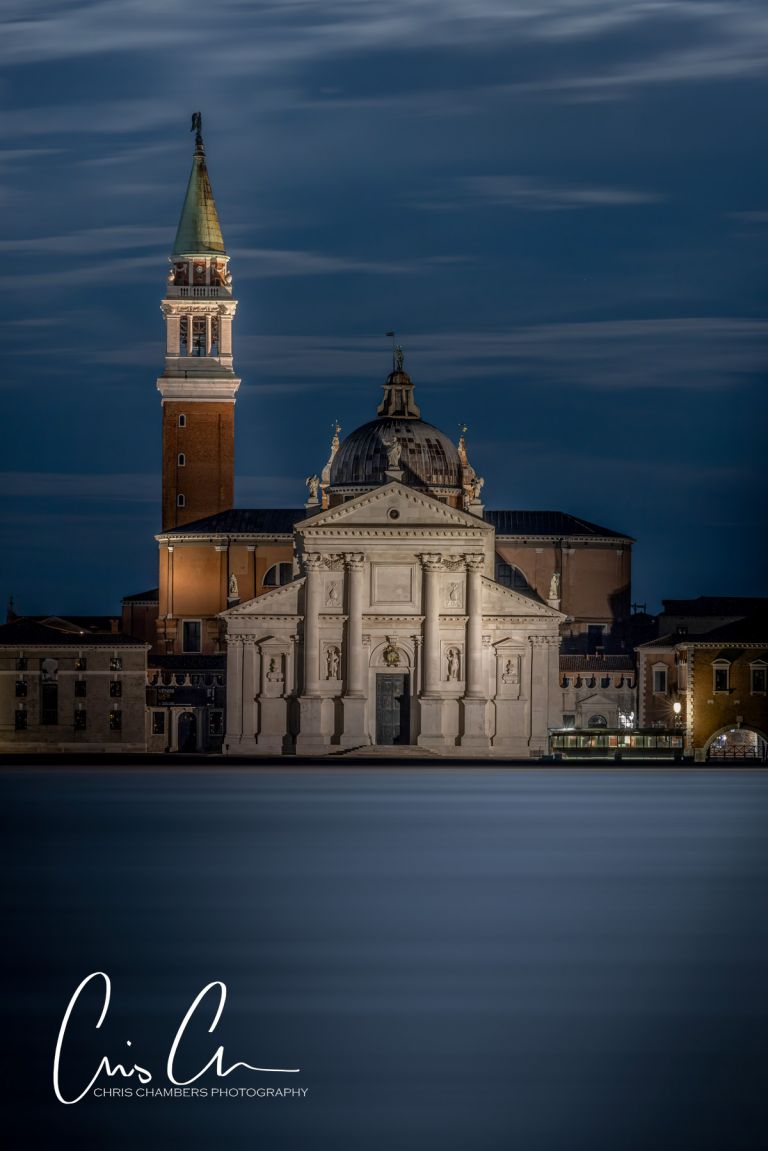 Timing for sunrise, during the workshop we'll discuss planning and how we choose locations and the time of day as can be seen here with the rising sun passing over the dome of San Giorgio Maggiore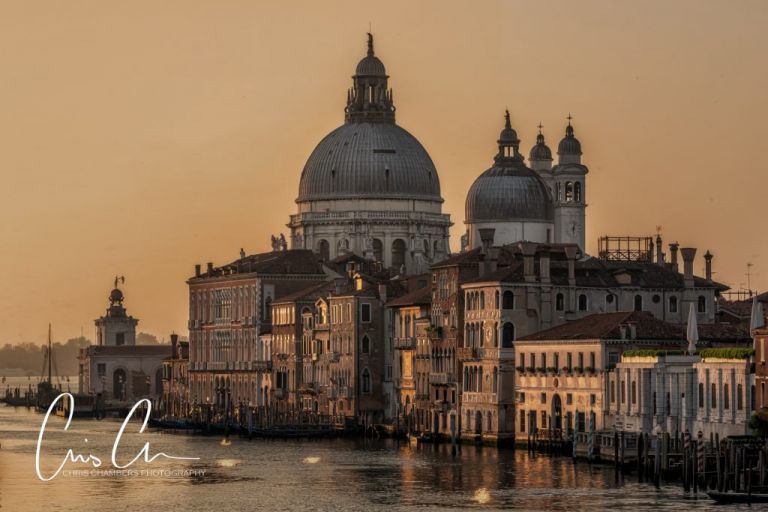 Below: View a selection of landscape photographs from Venice including many of the locations we plan to visit. 
Terms of booking:
Al bookings are non-refundable and monies paid cannot be transferred to a different booking. In the unlikely event of cancellation, all deposits / balance would be refunded. We are not liable for any other cost you incur and it is recommended that you have travel insurance which covers any other costs. The remaining balance will be due January 31st 2024.