Limited time offer to celebrate the launch of my new training website
Training vouchers – valid until December 2022 
available at HALF PRICE until Saturday 30th may 
You can purchase as many as you wish to use towards, or as payment for one to one, weddings, business and landscape workshops in the UK and overseas. 
Vouchers are available in £50 £100 and £200 values but are reduced by 50% offering great savings against future course bookings. Theres no limit to how many you can purchase, you can use up to £200 of vouchers per new course booking. 
Courses will become available as soon as we know about the easing of social distancing rules. You'll be able to use your vouchers against any of the courses once they are available to book. – Hopefully quite soon!
Terms and conditions of vouchers (For more detail, read the FAQ below). But there's no real catch! 
Vouchers are valid until December 31st, 2022
You can use multiple vouchers up to the face value of £200 per booking.
Voucher is valid for all new wedding, landscape and business workshops, training courses and in person one to one bookings.
Vouchers are non refundable and cannot be exchanged for cash. 
No credit for unused value of a voucher.
Vouchers cannot be exchanged / refunded.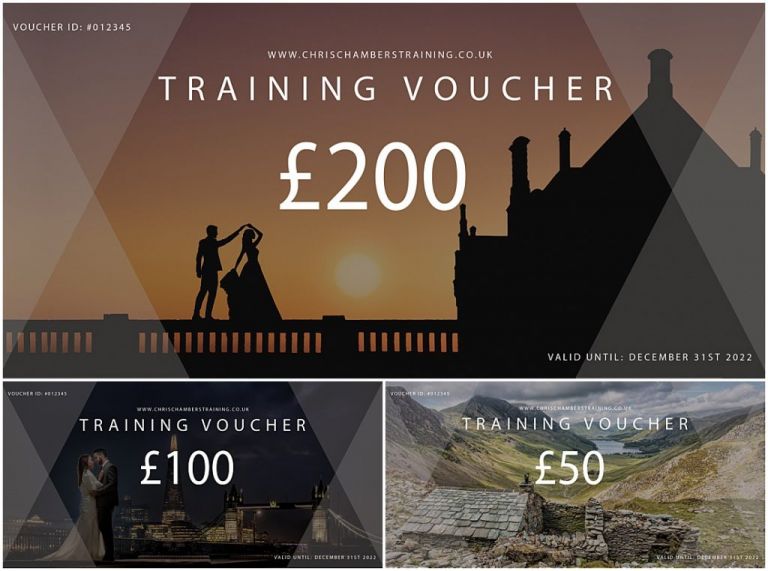 Frequently Asked Questions
How long do the vouchers last? The vouchers expire December 31st 2022. 
Can I use more than one voucher on a workshop booking? You can use multiple vouchers up to the total voucher value of £200 per workshop booking. 
I'm planning to attend number of workshops over the next year, how many vouchers can I purchase? There's no limit to the number of vouchers you can purchase. If planning to attend multiple courses it would allow fantastic savings for each course. 
Can I use the Voucher for a workshop balance I've already booked? Sorry no, these are just for new bookings. 
I have a £100 credit from the Corona Virus postponements, can I combine this with my discounted voucher? Yes, with the exception of one year students who have a heavily subsidised pricing structure you can combine your  credit with a voucher for workshop payment
Can I use part of a voucher for payment? You can, but the voucher can only be used once so any unused value would be lost. 
Myself and my partner would like to book, can we both use vouchers? You can, they'd be too separate bookings so can both use vouchers. 
What can I use my vouchers for? The vouchers can be redeemed against any in person one to one training session, any wedding or landscape photography workshop and any business workshop available now or in the future
What can't I use my vouchers for? Vouchers can't be used for any virtual training, webinars, download products or payment towards a one year development program. 
How do I redeem a voucher? To redeem you'll need to email me to activate your code against the workshop you'd like to book. 
Are the vouchers virtual or can they be posted? Vouchers are delivered by email. You can print them if they are a gift. 
Contact me if you have any questions or would like to know when dates are announced.