April 29th and 30th 2024
£450 for both days. Book with a £100 deposit 
Click here to Book with the deposit only option
A totally new wedding workshop and locations in and around the stunning Glencoe. An area I've visited for many years and yearned to photograph a bride and groom amongst the mountains, waterfalls and amazing vistas. Think landscape and wedding photography combined. 
From our base at Tyndrum just south of Glencoe, we'll have access to some of the best scenery the stunning Scottish Highlands afford and so many opportunities to explore composition, lighting and create unique and amazing images whilst learning new techniques.. 
Day One April 29th
Early arrivals Can join me for a landscape photography sunrise shoot at Kilchurn Castle before we return to the hotel to meet with the models and begin our day of wedding photography training
We plan on visiting waterfalls, mountain passes and overlooks, lochs and finish off with a sunset and blue hour at a castle on the coast. 
Wedding Photography meet at Tyndrum 1030 finish 2000
Day Two – September 19th

We'll leave the hotel at 0830 to head to Glencoe and the stunning Glen Etive including the amazing waterfalls. We'll finish our wedding photography at 1630 but anyone wishing to stay can join me for a few hours of landscapes in and around Glencoe
 Attending a workshop isn't just about creating stunning images, it's the journey involved in creating these images and where and how we work out camera and flash settings so you can quickly and easily create similar images on a real wedding day.You'll have access to our flashes and triggers for the off camera flash elements of the workshop (Canon, Nikon, Sony and Fuji). it is recommended you have your own flash for when we are shooting with on camera flash. We'll also be using a variety of gels, grids and other modifiers from Magmod.
You'll also have plenty of opportunities to guide and direct the models as we incorporate waterfalls, jetties and stunning mountain vistas in our photographs.
Skill Level – All levels. To get the most from the workshop we would recommend you are able to control your camera manually and own at least one speedlite for your camera.
Areas we'll be covering – 
Posing and composition to create striking images with real wow in this amazing terrain. Using the landscape to create drama and impact. 
People in the landscape. What better place to practice and learn little people big landscapes, learn how to create wall art that features a wedding couple and the landscape 
Working at insanely low shutter speeds, hand held and freezing the action as we shoot waterfalls and moving elements in our frame.
Selecting the best light source for the subject – flash on and off camera, natural light.
Quick and easy go to settings for using flash in daylight.
Off Camera Flash – using single and multiple Speedlites for dramatic and fill in flash
Off Camera Flash – Using Modifiers, grids, and coloured gels
Equipment Required – Camera, lenses from wide angle to ideally around 135mm or longer. Flash for use on your camera. Off camera flash is provided and triggers for use on all brands of camera are available to use.  You'll also need walking boots with good soles.
Skill level – All Levels
Fitness level – 1/5 There will be walking across uneven terrain and some locations are 500m or more from the car but there are no steep inclines or large hills.
All tuition, loan of flash equipment and models included. Transport to and from locations and accommodation are not included in the workshop costs
Some of our planned wedding photography workshop locations in and around Glencoe. Imagine a bride and groom in these photographs!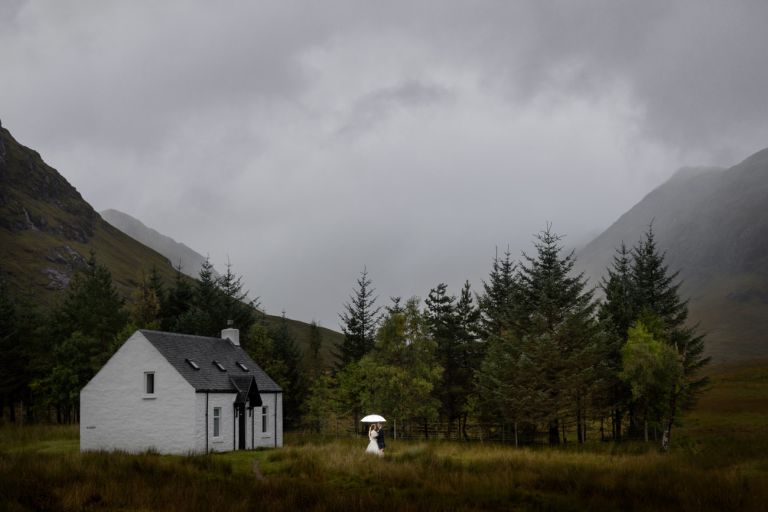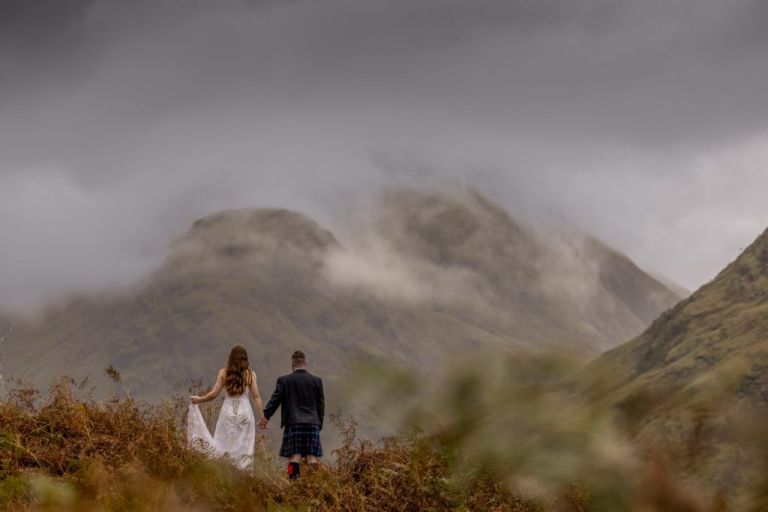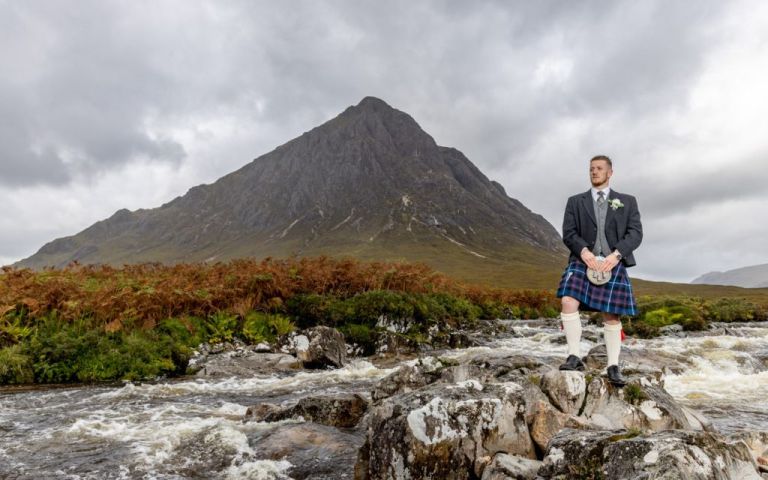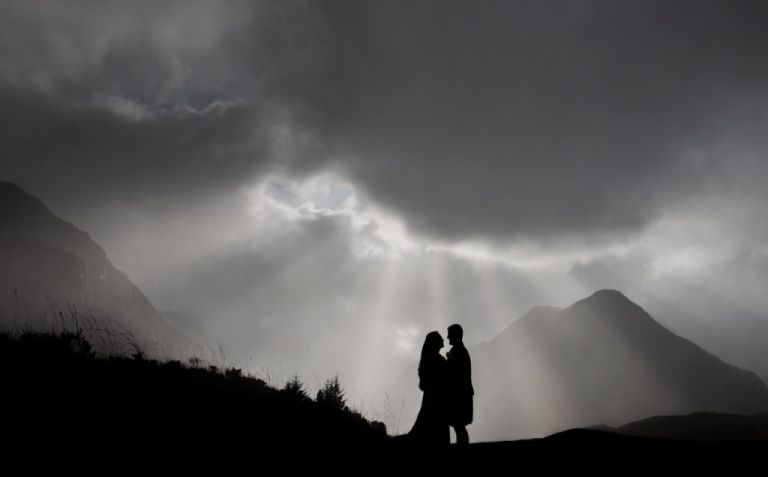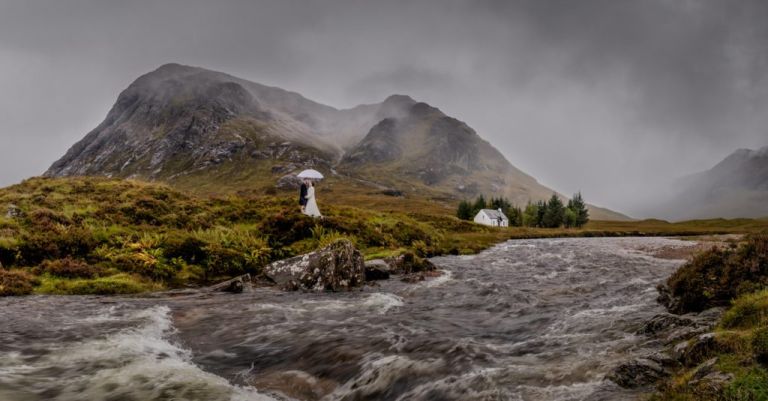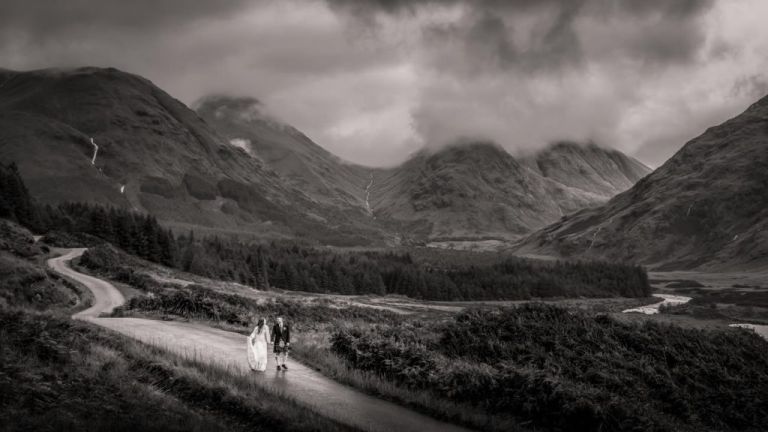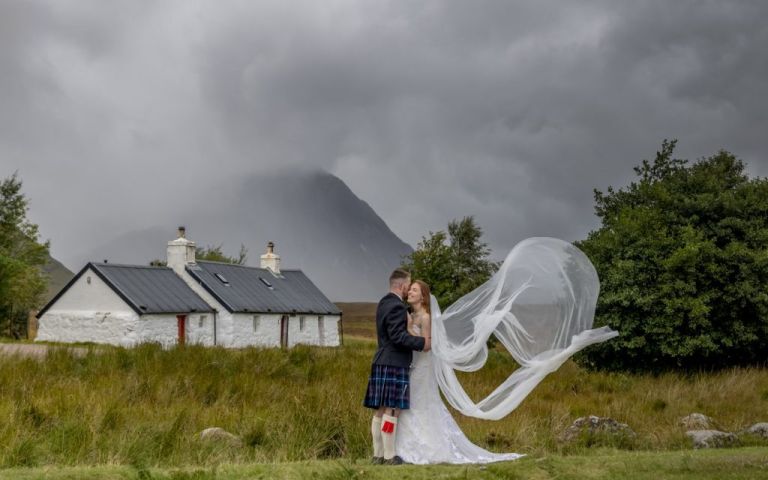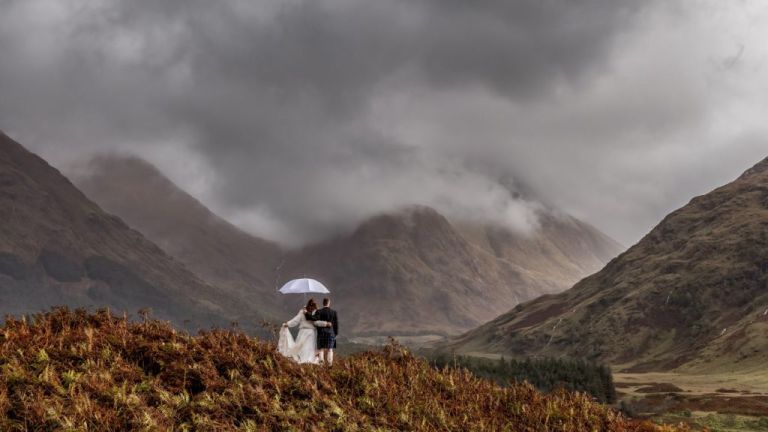 We'll be adding in some landscape photography opportunities on both days including sunrise at this amazing castle – below. No experience required for a few relaxed hours of optional landscape photography. 
Conditions of booking: All monies paid are non-refundable and cannot be transferred. Images taken on the workshop may be used for marketing purposes including website and print they cannot be used for qualifications or competition entries. Whilst we aim to cover the full itinerary for the day we cannot be held responsible if due to factors outside our control we are unable to complete any part of the day's course.